Katie's career in horses began when at seven years old, she attended the local riding school. A year later, her parents purchased her first pony, allrounder, Pip. "Pip did everything," she explained, "he was Pip-of-all-Trades."
Pip introduced Katie to the showring. "We were very much local showing people, and we did a bit of everything, but it was in those showing classes that we prevailed, and that's what took us down the showing route."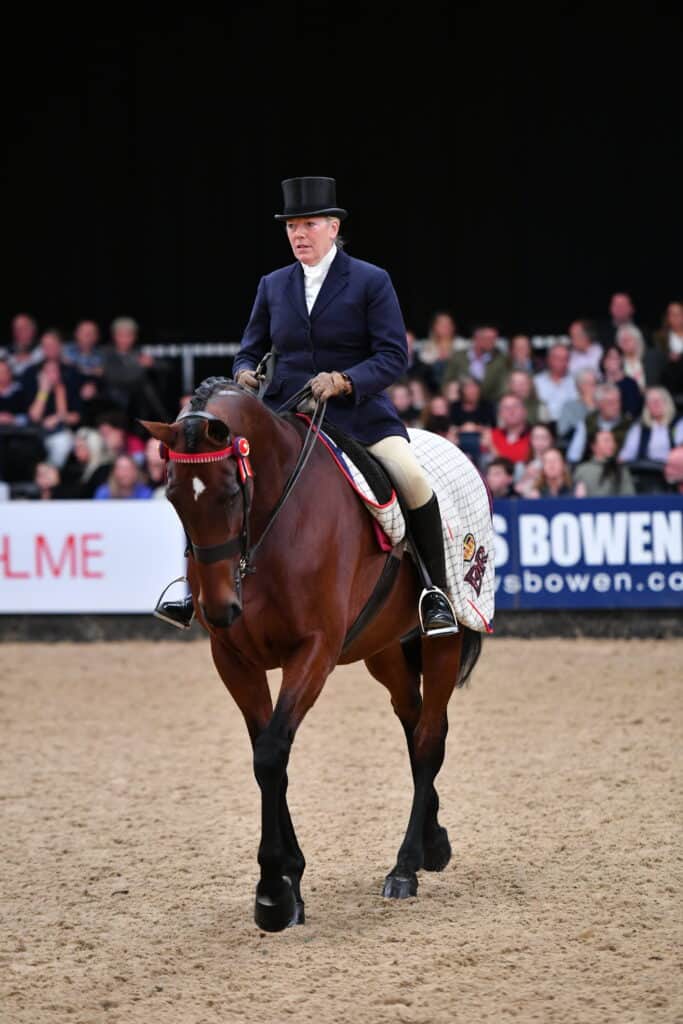 When she was 11 years old, Katie's parents purchased the then four-year-old Pendley Wizzard, and a few months later, the pair enjoyed their respective first taste of Horse of the Year Show, finishing fourth. "From there, we progressed to show ponies and then to hacks, and then to cobs, riding horses, working hunters and all sorts," she explained. Nevertheless, the family remained interested in horses across all disciplines. "Along the way we also kept point-to-point horses and all sorts; my parents really gave me a massive all-round experience with horses, and I enjoyed the education in all fields.
"When my boys were little, I decided to go back to some eventing, and my working hunters also evented. Of course, when you have eventers, you must also go show-jumping and to dressage, so I've really dipped a finger in each pie!"
She credits the variety she enjoyed in her own education with helping her in the showring. "It's helped massively, even with conformation and soundness. People think that you can cover up poor conformation with fat but that's not the case; poor conformation is poor conformation so I can't understand why people think this."
Her background also very much underpins the experiences and education she now gives her own horses: "I like a fit horse; I like my horses looking fit and gleaming with health. It's something I pride myself on, so even when having light periods, my horses will be hacking and doing road work."
Katie's mastery of the showring claimed royal attention, and she spent 20 years producing the late Queen Elizabeth II's horses. Crowds at Horse of the Year show were treated to a display of the late Her Majesty's horses and ponies courtesy of Katie and fellow royal producer Lizzie Briant Finlayson, and there was not a dry eye in the house when Katie and First Receiver were pulled forwards as winner of the SEIB Racehorse to Riding Horse final. "I'm usually a laid back person," said Katie, "but I put myself under immense pressure when she died just a few days after First Receiver qualified at Burghley Horse Trials. I was desperate for a centre liner as that's what she really wanted. I made it, albeit too late for her, but a first win for the King. It was very emotional."
Katie began her judging career at 20 years old, starting with the HIS panel, which is now the SHB (GB) panel. Later in her twenties, Katie progressed to the BSHA panel, before latterly joining the BSPS, CHAPS, R2R and TGCA panels. She explained that she thoroughly enjoys judging the BSPS and TGCA classes as they are completely different to those she competes in herself. "They're a different set of riders and ponies and I can judge with a completely fresh eye and mind; I think that's so important. The same applies when I judge SEIB Search for a Star classes. I absolutely love judging the classes I am not connected with."
What will Katie be looking for?
It goes without saying that Katie will be looking for a fit and healthy animal, but what else?
"HOYS is a completely different scenario, and an incredibly lively ring. SEIB do groom competitors to be ready for this as going in blind is not ideal.
"I'll first and foremost be looking for a horse that walks into the ring and says, 'look at me,' and then it must complete a mannerly go round. In the individual show, the ride must be mannerly, educated, forward going, and the horse must cover the ground. If a horse is not educated, it is not ready to win at a big show, and this is the pinnacle.
"I also want to see tack that fits perfectly, and a comfortable saddle for the ride judge. The turnout must be impeccable; it's so important.
"For the conformation faze, you can lose marks so easily. You must know how to stand up the horse correctly for the judge to see from the front, each side and from the back. Make the most of your horse's good points and stand it appropriately. Get someone else to stand up the horse for you to properly assess how it looks best, and do the same for when it is moving. For example, perhaps if you trot it too fast, the horse will go wide behind.
"I'll also be looking for a combination who is smiling and enjoying themselves. Smile throughout and if it doesn't go to plan, don't look too disgruntled, there will always be another day."