With eight days to go, meet eight mountain and moorlands who will be giving their riders a first taste of the action in the Top Spec arena next week.
Ella-Rose Wells, 10 and her seven-year-old Shetland Bergli Dreamwatcher (Bob) are headed to HOYS to compete in the open Exmoor or Shetland class. Ella-Rose's mum, Laura Wells explained that the Wells' have owned Bob for three years. He was broken in by Ella when she was only seven when he was a still a stallion. "She does all the work with him herself; I am just so proud," said Laura, who went on to explain that Ella-Rose wanted to qualify for the opens instead of the first riddens as she loves to canter go round and her favourite part of her show is the gallop!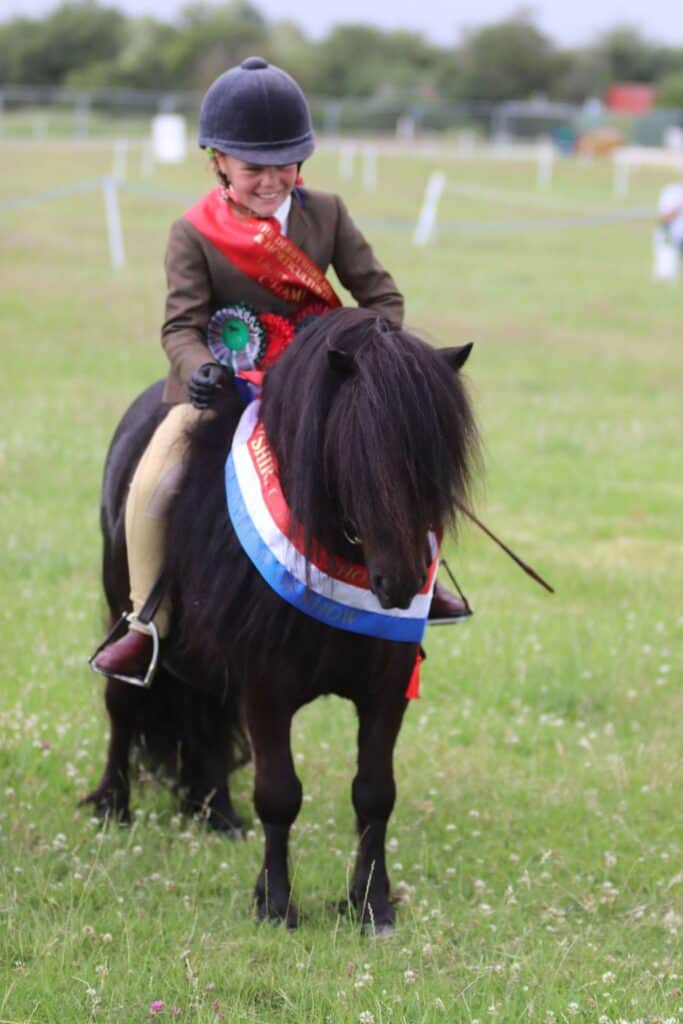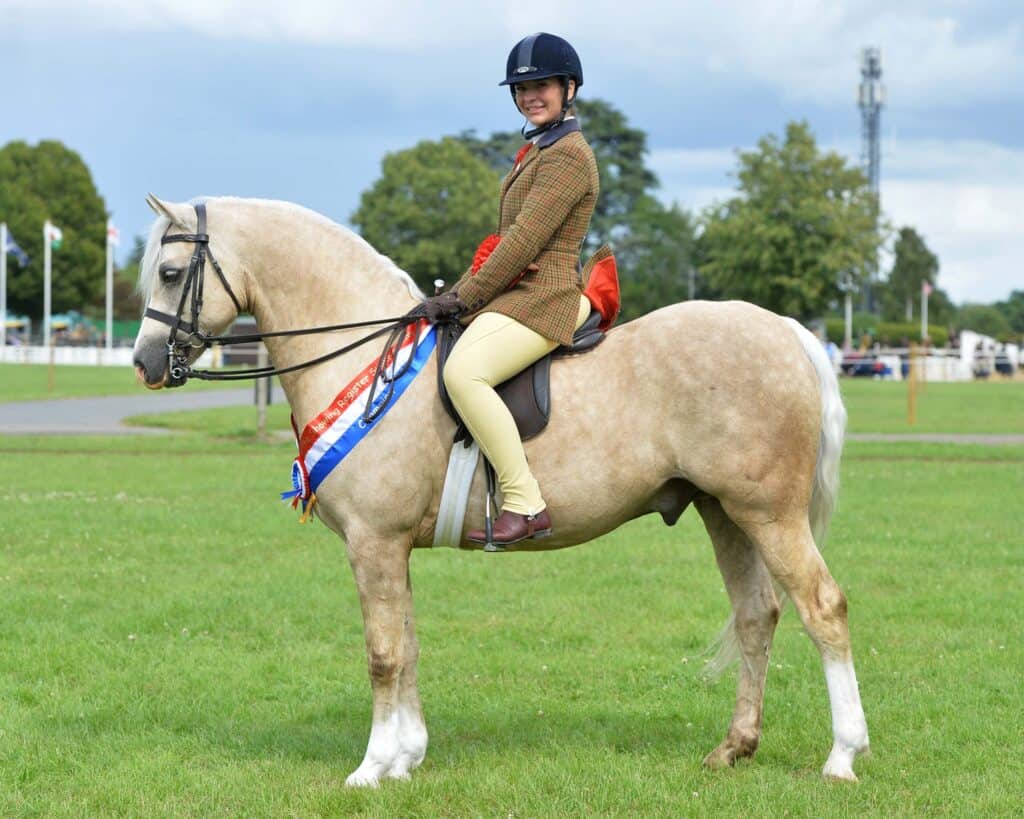 Samantha Bell and her own Musbury Prince Consort (Alfie) are headed to HOYS for the Welsh section B class. Samantha purchased Alfie from the Fayre Oakes sales as a two-year-old. "He went to two studs before we had him back to ride," explained Samantha, adding, "we did three shows before I fell pregnant with my daughter, Amoura." A lockdown and a secod baby – Vinny – later, busy mum and business owner Samantha brought Alfie back into work again and the pair have had a successful season, qualifying at the TSR Championship show. "He jumps as well. We don't go out often, but he's had some good wins and placings this year and since qualifying, the penny has dropped and he seems to know his job and is more relaxed. I waited a long time to find a quality pony like Alfie with bone, movement and presence."
Clare Jubb's homebred Dartmoor Rothvale First Edition (Odie) will be entering the mountain and moorland lead rein final ridden by six-year-old Jemimah Harper Chambers, who is in her first season in the saddle!  "She is living my childhood dream which never came true," said Clare. Odie is led by Mark Robert Reeves who co-produces him alongside Steven Hulston. The trio qualified at Great Yorkshire.  "I couldn't ask for a better team," Clare said, adding, "Odie is mine and my mum's first foray into breeding and he's a superstar.
Jemimah knows HOYS is a 'big' show and can't wait to ride in front of all those people and to ride Odie alongside her Uncle Mark! Her mum and dad have even made her a special countdown to HOYS sticker chart so she can count the days. This is a huge family affair!"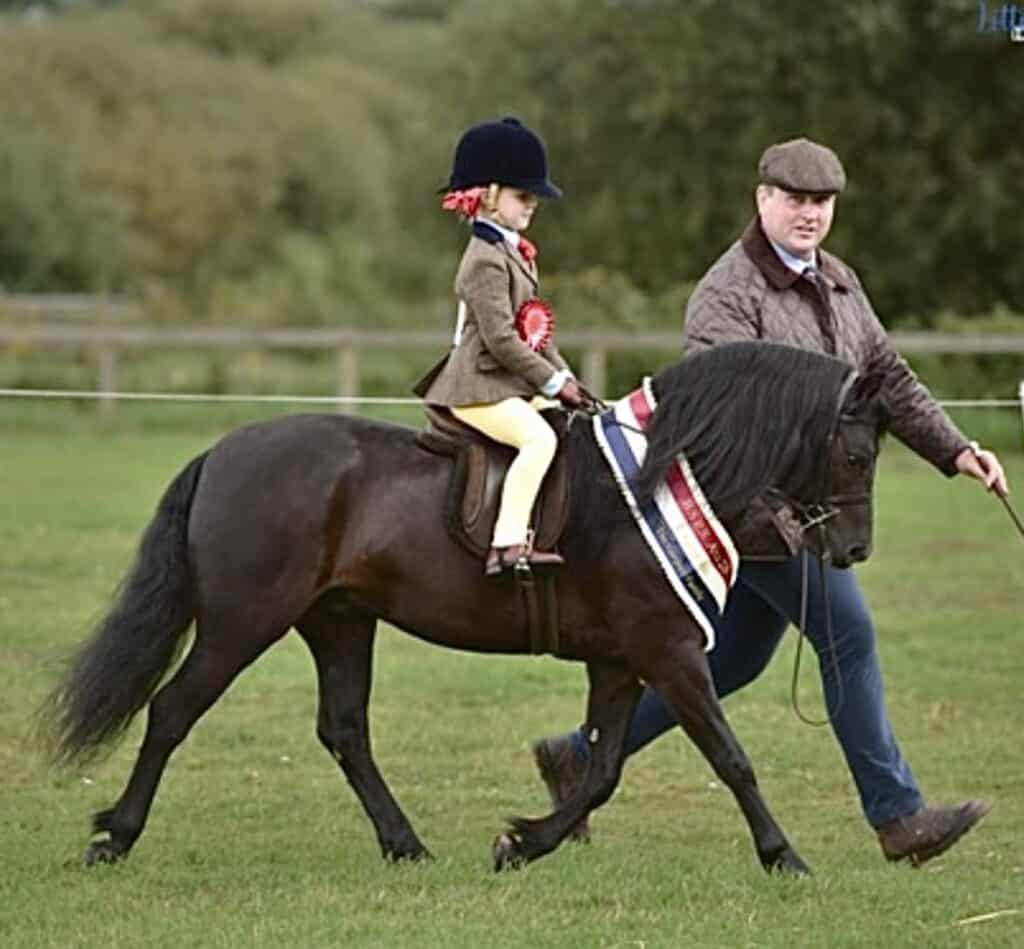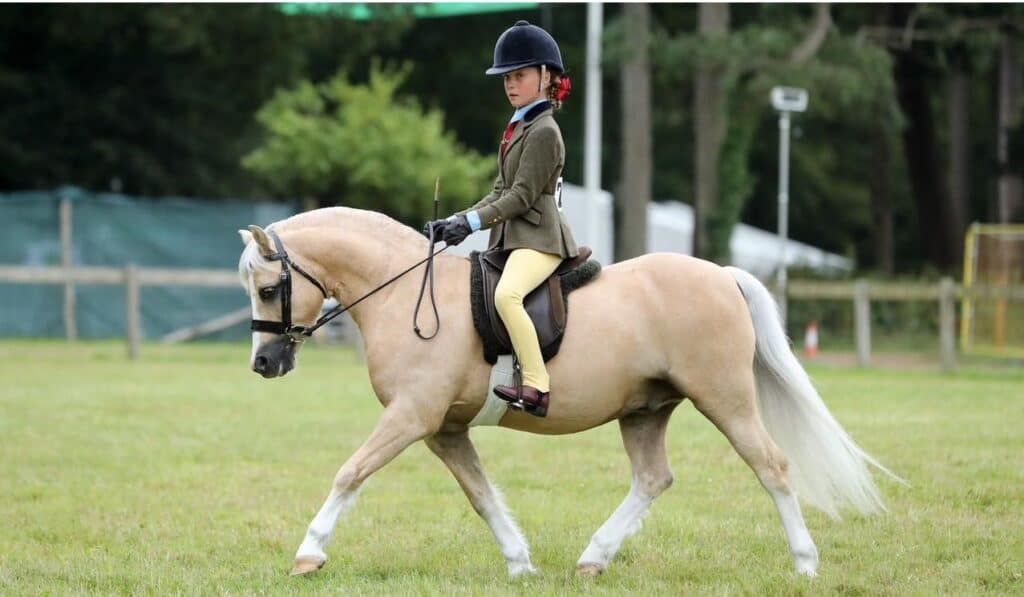 Maisie Wright and Welsh section A Blanche Goldleaf qualified to compete in the mountain and moorland first ridden class at Moreton in Marsh Show on only their fourth ever attempt. It was a nerve-wracking class for Maisie and mum, Amie, as Maisie and Gold were pulled first, but thankfully, they held onto the top spot. "Maisie is so excited to ride in the arena of dreams," said Amie. "We sadly missed out on Royal international Show after Gold had a freak accident the day before. Maisie was truly heart-broken and we thought Gold would be out for the whole season but he's come back stronger than ever. At only our first season competing at this level we have had a great season and thoroughly enjoyed it. We are working really hard to prepare ourselves for HOYS and the countdown is on!"
10-year-old Scarlett Ellwood and Exmoor pony Omega (Danny), 20, won the Premier Amateur League Wildcard ticket to the Exmoor and Shetland class. "Scarlett has had Danny since she was three years old," said Scarlett's mum, Anna Ellwood.  "My friend Kate Wilson owned him and I'd pestered for him for a while!  Danny has taken Scarlett from lead rein to first ridden and then the opens." Danny and then five-year-old Scarlett qualified for the RIHS on the lead rein "and this was the start of it all.  Danny has been the perfect first ridden and then taking her on to the opens and looking after her so well. He is our pony of a lifetime!" Scarlett had already left for school when Anna received notice of their qualification, and it's difficult not to be touched by Scarlett's reaction when she returned home to the news and a celebratory gathering in their honour! "She cannot wait to trot round the Top Spec arena," said Anna.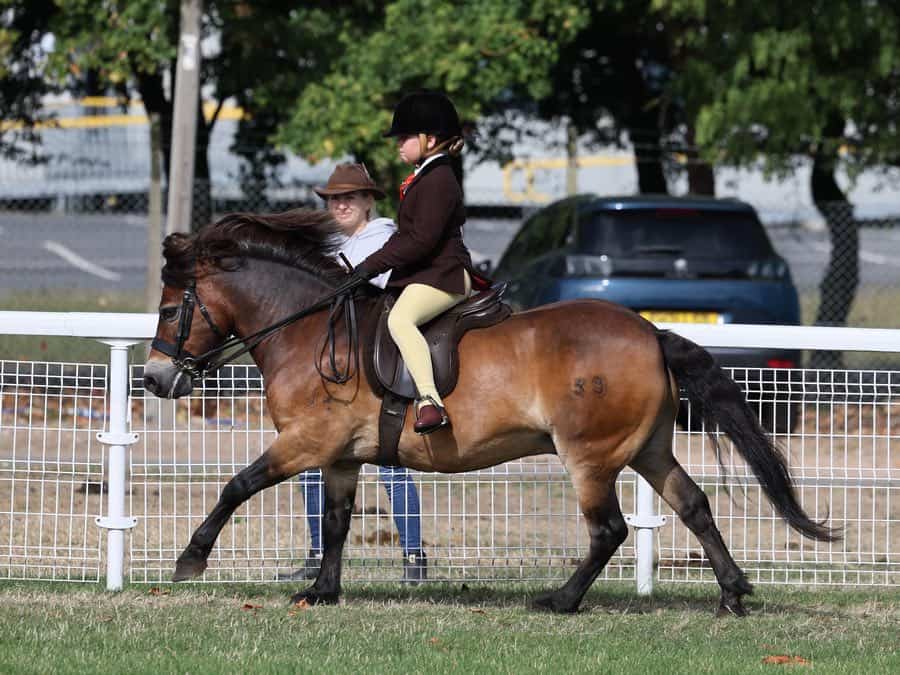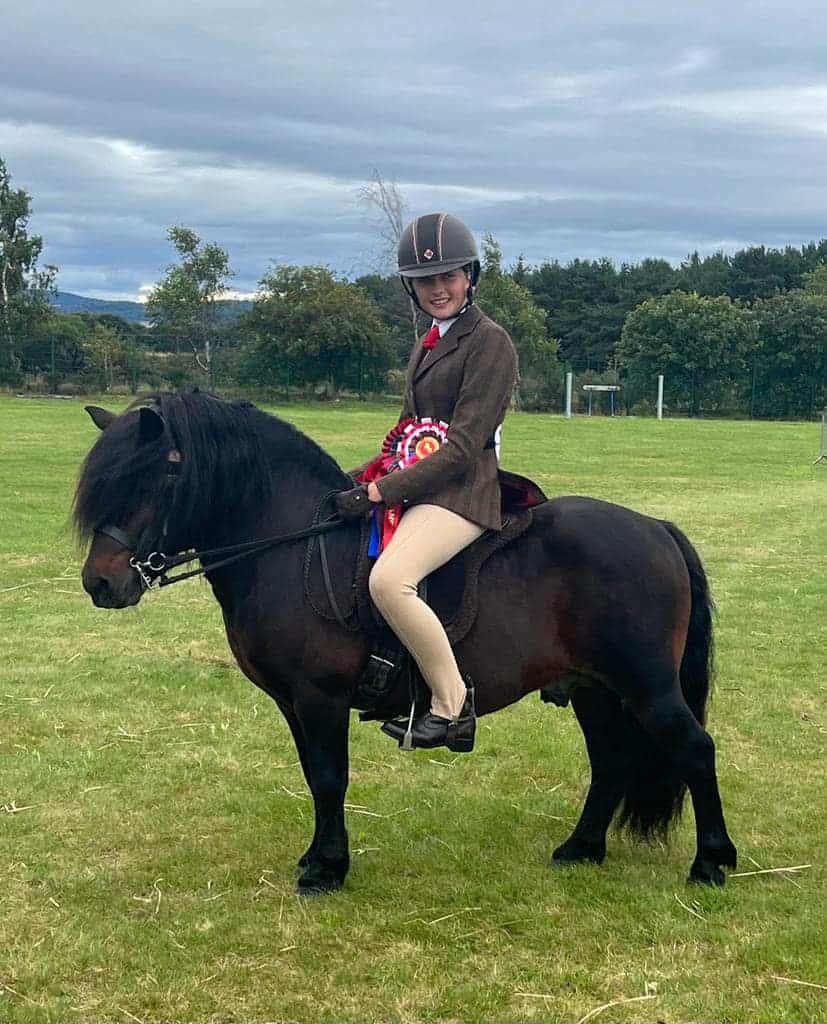 15-year-old working Shetland stallion Somahouse GT (Teddy) and his young rider Aaliyah Watson, 14, will be making the very long journey south from North Aberdeenshire to the NEC . They qualified at the 40th Shetland Pony Breed Show on the Black Isle, near Inverness. Teddy is a late-comer to the ridden scene having been rebroken by Aaliyah last year meaning this is Teddy's first full show season. Their qualification is all the more remarkable as they have only competed at seven shows and just two qualifiers as he must split his time between his ridden and stud duties. "Since I started showing, my dream has always been to compete at HOYS," said Aaliyah, adding, "I can't believe I'm actually going! I'm most looking forward to going through that special curtain and riding in the famous Topspec Arena, alongside the country's top producers and riders. Being an amateur and home produced makes it even more special."
It was an emotional day at the New Forest and Hampshire Show for Maddie Boros-Kemp as she won the M&M junior large breeds qualifier and the overall title riding Gobell Idwal, qualifying her for HOYS for the first ever time. "It's my last year in the class so it's been an emotional day," said Maddie, who runs her father's livery yard. Idwal is an 18-year-old black Welsh section D who has been in the placings in many qualifiers this year. "We gave these classes a shot last year and finished with lots of seconds so this year I've been so lucky to qualify," added Maddie.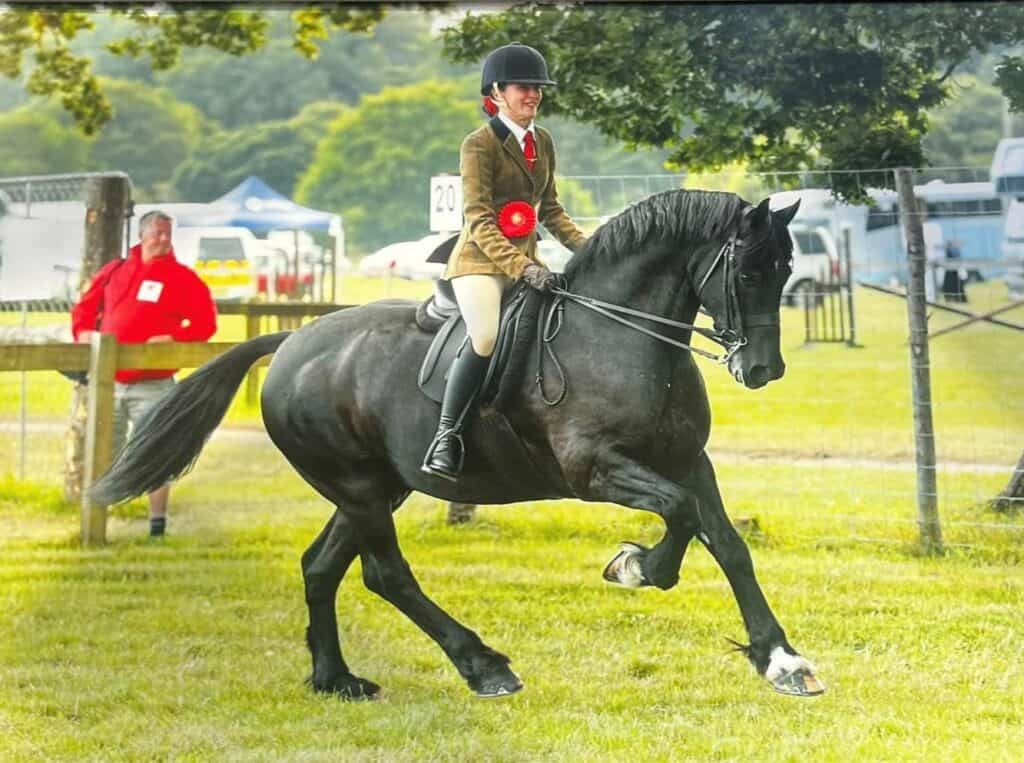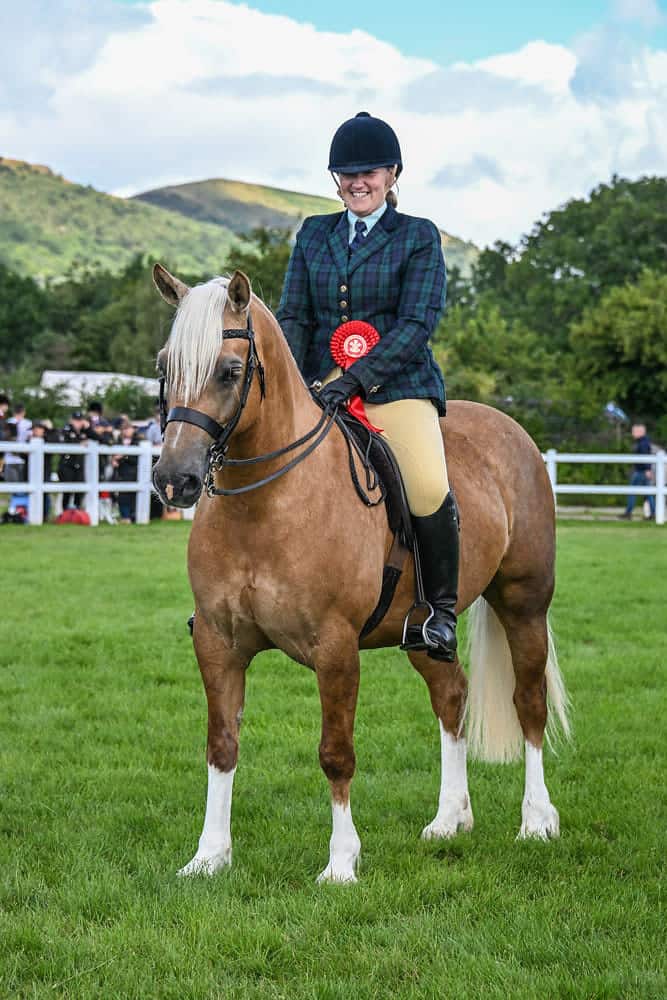 Kelly Morris purchased Welsh section D mare Abbeyvale Higher Love (Stella) unseen from a picture she spotted on Facebook. "She was advertised as a project or broodmare, lightly backed, and too much for her owner," explained Kelly. "I started from scratch around August last year, and did a couple of novice shows at the end of 2022." This season, Stella stood fifth in her first HOYS at Derbyshire Festival and was a close second at the Royal Welsh. It was a case of third time lucky with Stella and Kelly qualifying at the National Welsh Championship in Malvern. To add to the magic, Stella then qualified in the junior large breeds with Nansi Evans-Brooks and stood champion. Just to prove it was truly no fluke, Nansi and Stella claimed the HOYS junior tricolour at Denbigh and Flint. This will be both Kelly and Nansi's first time riding at HOYS. "It's been a crazy ride," said Kelly, adding, "she has been far from easy but now she is repaying me tenfold. She has no idea what she has done for us all."