By Jenny Viner

SEIB Search for a Star and Racehorse to Riding Horse headed to Scotland for the first time in over 20 years on the 11th and 12th June. Netherton Equestrian in Perthshire hosted both a Search for a Star workshop and qualifiers over the weekend.
The Search for a Star organizing team at SEIB Insurance Brokers acted on the comments from many competitors asking for the series to hold a Scottish qualifier this season. This is the first time since the mid-nineties that Search for a Star has held a Scottish qualifier. The previous Search for a Star held north of the border, was at Gleneagles back when Search for a Star was a photo competition. The competitors with the best pictures as decided by the late Robert Oliver were invited to come along in person with their horses.
Marketing Manager at SEIB, Nicolina MacKenzie said: "We regularly hold Northern qualifiers for Search for a Star and have often debated coming to Scotland. We feel it is only fair for Search for a Star to be inclusive and to give as many competitors as possible the opportunity to compete for the chance to qualify for Horse of the Year show and Your Horse Live. Plenty of people said they wanted a qualifier in Scotland and many of these entered, came along and have supported our decision. The times we live in were also a motivating factor in helping competitors. Diesel prices and inflation are hitting everyone and if there is a way we can try to help people, we will."
Working Horse winner, Emily Mcquillian from Aberdeen and her bay gelding, Graffite V is a newcomer to showing, she said: "I've always wanted to go to HOYS and as soon as we saw that Search for a Star was coming to Scotland we decided to give it a go! We went to the Saturday workshop which was invaluable. I've never done quartermarks before and the plaiting session was very useful too. In the ridden section of the workshop the judge ran through the show and that definitely helped polish our performance." Winner of the ridden part-bred traditional Your Horse Live qualifying class, Amy McIntyre from Saltcoats on the west coast said: "I would have loved to have taken part in this class last year, but couldn't as I was pregnant. It looked as though the part-bred traditionals might not run this year and I messaged Search for a Star over the winter asking for the class to keep going – it turned out to be a double bonus as not only did it run, but the qualifier was in Scotland too!"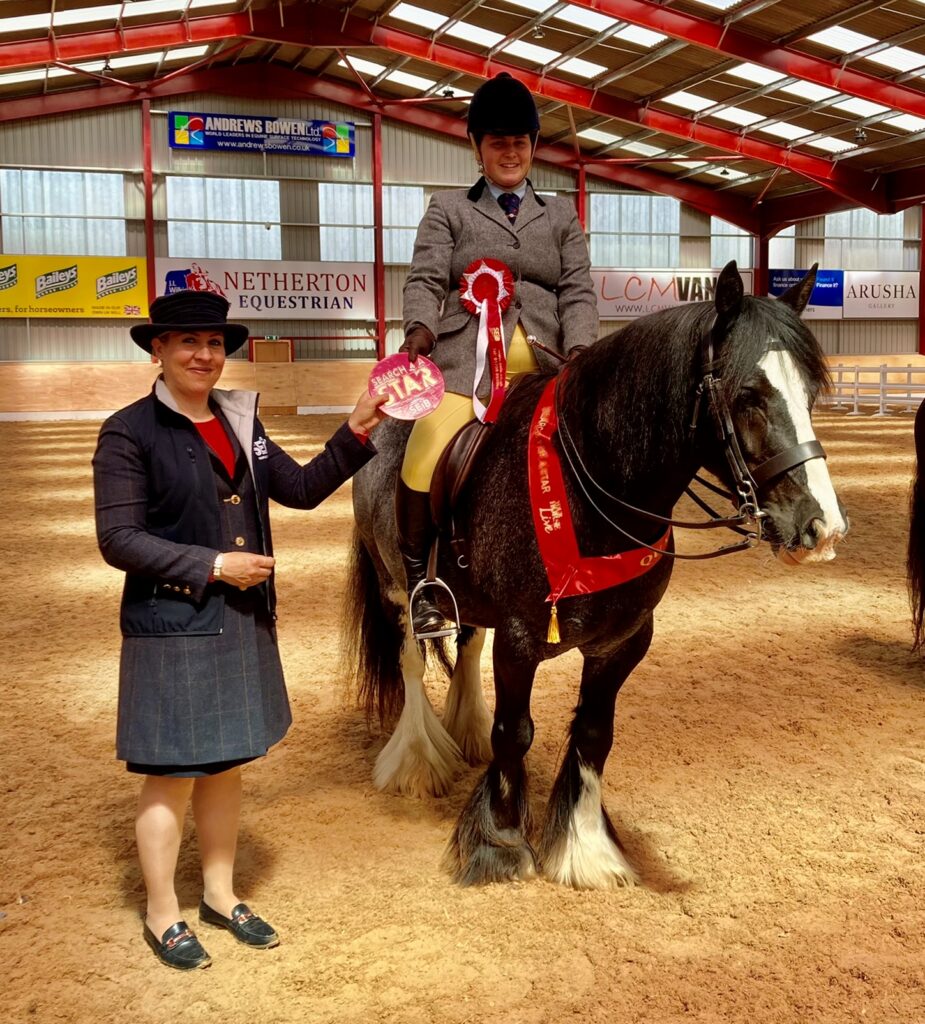 Senior search for a Star judge, Mr Richard Ramsay said: "The atmosphere at Netherton was simply fantastic. We had many competitors that are new to the series and they were genuinely grateful for the opportunity. The competitors that came to the workshop on the preceding day, listened, took note and we saw many improvements on the Sunday."
The superb and vast indoor arena at Netherton provided ample space for two Search for a Star rings. Proprietor, Joanna Wilkie said: "Search for a Star and Racehorse to Riding Horse gave us a lovely opportunity to host qualifiers for Your Horse Live and Horse of the Year Show. Plenty of our regular clients came along, but the qualifier also meant we had people travelling from all over the UK – including London – coming to Netherton. Several local people came along to watch to find out more about the series with a view to giving it a go in the future. We had positive comments from the Saturday workshop, about how it helped with the preparation and knowledge of what is required – such as dummy spurs and that hunters must wear shoes! We have also received positive feedback on how well the show was run and people thanking us for hosting Search for a Star."
Equine Insurance brokers, SEIB Insurance Brokers set up Search for a Star over 20 years ago so they could offer a unique competition opportunity to many of their amateur rider customers. SEIB has a long association with the showing world and is renowned for 'putting something back' by supporting many equestrian events and activities in addition to Search for a Star.
For all Search for a Star and Racehorse to Riding Horse information and to enter, please see www.seib.co.uk/competitions.
Further qualifying competitions 2022:
23rd & 24th July 2022 during SEIB Trailblazers Championships at Stoneleigh Park, Coventry CV8 2LZ
Search for a Star Weekender, competition on 24th July (Stabling will be available via a link that will be published in due course).
15th July 2022 at the Riding for the Disabled Association (RDA) National Championships at Hartpury College, Hartpury GL19 3BE (RDA Riders Only)
7th August 2022 at Science Supplements Onley Grounds Equestrian Centre, Willoughby, Rugby CV23 8AJ
13th August 2022 NAF Five Star International Horse Trials, Hartpury College, Hartpury GL19 3BE. (SEIB Racehorse to Riding Horse only)
14th August 2022 at "ShowFest", Three Counties Showground, Malvern, Worcestershire.
WR13 6NW (ONLY Classes 10, 11, 12 and 18 will be held at this qualifier.)
4th September 2022 Land Rover Burghley Horse Trials, Burghley House, Burghley Park, Stamford PE9 3JY.   (SEIB Racehorse to Riding Horse only)